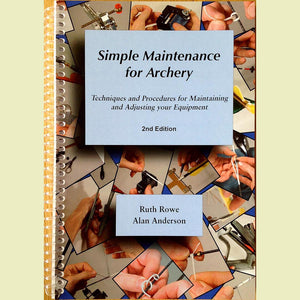 For Compound and Recurve Archers
This book is for archers who want to learn to maintain their own equipment. Top competitors maintain all their equipment so they know it is correct and the way they want it. Or if you enjoy crafts, this book is for you.
There are many things you can do to maintain equipment. Examples: Rather than throwing an arrow with a damaged nock, missing point, or beaten up fletching away, as long as the shaft is in good condition, you can repair it. If the center serving of your string is worn, it can easily be replaced rather than throwing it out. And if your nocks are either too tight or too loose on the string, you can change the thickness of the thread of the center serving to adjust the string thickness so it fits properly.
Along with maintenance of equipment, this book has handy tips on adjusting pieces so the equipment works properly Examples:  On a recurve, the windage adjustment has a limited range. If the adjustment is completely to one side and you need to move it further, you can recenter it without losing your sight position. Or with a recurve in particular, if you just bought a new sight, rather than starting from scratch and resighting all the distances, you can get really close sight marks with the new sight.
All of these and more are in Simple Maintenance for Archery. It's a handy reference for those wanting all this kind of information in one spot. Richly illustrated, it shows how to all the things you need for equipment maintenance.
The book was written by Ruth Rowe, Olympian, and Alan Anderson. Both are long-time archers. Ruth is a retired international competitor and Alan is a craftsman of detailed and complex magic illusions and models