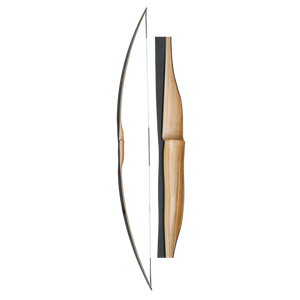 From the Bowyers of KG Archery

In response to the demands from our younger archers for a bow that has been made with the same love, care, and attention to design and materials that are used in adult bows.
Hardwood handle section fading out into a tapering lemon wood lamination to produce a smooth drawing bow and using clear glass on both back and belly of the bow to enhance the grain and figuring of the wood in this lovely little bow.

It has been a pleasure to make this bow for the youngsters, and to see their faces when they shoot the bow says it all.

The Specifications and Materials used:
Bow Length 55"
Draw weights from 10 lbs to 30 lbs at 28"
Bow Window 3" in length with an arrow shelf cut ½"in from edge of bow and curved to help arrow flight.
Satin Finish.
Supplied with Dacron string and arrow rest.
Bracing Height from back of bow   "to "

We try to keep a selection of bow weights in stock but some times we have sold out and we will make your bow to order, please allow 28 days for delivery