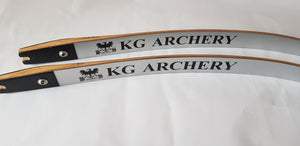 PLEASE NOTE-

These are new but may have a small marks from being on a riser for display purposes and trials.
NOT AVAILABLE AS PART OF THE LIMB EXCHANGE

ONLY LISTED WEIGHTS AVAILABLE
KG's innovation and quality brings you an economical ILF limb. Encapsulating the resin impregnated tapered core laminations in each of the limbs, making a very stable and reliable bow limb.
British made bow limbs ideal for the novice archer giving excellent performance and reliability
These are silver in colour and show no wood grain.


With reinforced bow tips suitable for F/F, F/F+, 8125G and Dacron bow strings with served loops