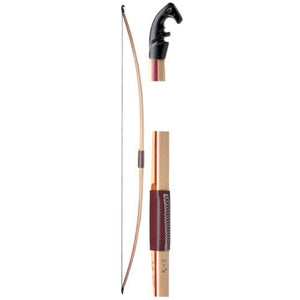 Beautiful handcrafted longbow with a horn nock carved as a horses head on the top limb.
Both top and bottom horn nocks have a groove for the bow stringer loops to fit in.
The bow is Hickory backed with purple heart and lemon wood. All bows have a leather grip and comes with a bow string and bow stringer.
The Longbow is glass backed for extra durability, so does not conform with the English Longbow Society rules. 
72" Long with a Satin Finish.
Lighter and heavier weights may be possible, please get in touch if you require a different option.

All longbows are made to order so please allow 28 days for delivery.