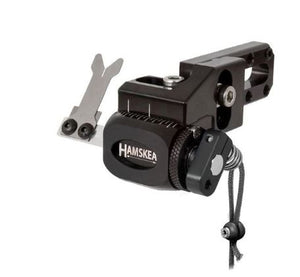 Takes design elements from the 

proven VersaRest platform in a 

streamline package that is 25% lighter.

Full microtune windage and vertical 

adjustments.

Zero tolerance technology ensures 

there is no lateral play in the shaft and 

rotation is silky smooth.

Comes with a .012" stainless steel 

wide hybrid target launcher and 

backer blade.(used in cable driven or 

limb actuated modes)

Launcher shaft rides on dual over-

sized sealed stainless steel ball 

bearings that rotate smoothly shot 

after shot.

Zero Stop technology ensures 

repeatable up and down launcher 

positions.

Spring knob provides multiple internal 

torsion spring adjustment positions.

8 sided, non-slip compression clamp 

design with in line dampening coil 

eliminates launcher bounce back.

Universal non slip limb pad, heavy 

duty no stretch cord and easy 

adjustment cord clamp.

Universal limb clamp assembly can 

be configured multiple ways: top or 

bottom limb actuated, cable actuated, 

cable fall away or fixed blade.