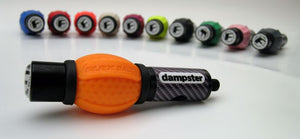 Dampsters  is a simple and effective anti-vibration  device, for use on any kind of bows.
Work in any position, otherwise and on recurves, the best position is the upper- front part of the riser.
The FlexBall included with the D.D.S. (Dual Damp System) perform better than any other on the market as a specifically designed for counteract and minimalize the shoot-shock and the posterior vibrations.