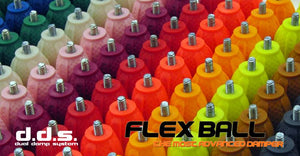 In 2012 we re-mastered the FlexBall, upgrading to a next level FlexBall 2.0  supporting heaviest weights.
Our damper stabilizers is not a typical damper device. 
We thought as a complex piece for solve two questions respect the bow vibrations. 
Two types of vibrations was produced after the shoot, the first produced by the general movement that the archery impulse in the shoot execution pulling the bow, the second was produced for the impact of the string to the limbs, that is going onto the stabilizer. 
Our design is the most advanced on the market. Why? 
The inner core is the heart of the FlexBall, designed for the vibrations transmitted onto the stabilizer, always protected of the external conditions, always working. 
The outside is the skin of the FlexBall, looking for eat the mayor movements during the shot execution and protecting the FlexBall inner core of he external conditions. 
The result it´s the  FlexBall 2.0 the most advanced damper till today.
1/4 x 1/4 threads fits stabilizers  with 1/4 thread, between the weights and the stabilizer end.