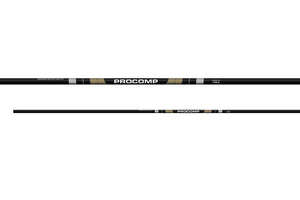 Set of 12 arrows.
Arrow Specifications
G Nock (Small as standard, please let us know if you require large)
Bohning Vanes

Break Off Points
Other Combinations such as Pin Nocks and point/inserts available, see other products.
Highest quality and high performance normally come with a price tag to match. Well, not any more. Easton's new A/C PROCOMP arrow is now available for compound target and field competition. The light-weight, high speed, parallel design PROCOMP is designed for archers looking to boost scores at competitive and club-level compound events. The PROCOMP was proven at high level tournament circuits in the 2018 season by World Champions, Steve Anderson and Braden Gellenthien, taking five World Archery podiums, with yet another at the first event of the 2019 World Cup season. The 4MM PROCOMP features Easton's unmatched spine accuracy and precision weight accuracy using our exclusive, high-modulus carbon and super-strong alloy core construction. All PROCOMP shafts come in a factory-sealed 12 pack with a +/-1-grain weight tolerance within each dozen. Straightness .0015″ or better.
Please see diagram to determine arrow length, if you are unsure please contact us.
To work out the spine of arrow you require, please refer to the Easton arrow chart HERE (opens in new window)
(Please allow up to 7 working days for delivery)