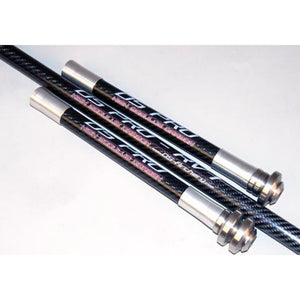 The DS-PRO RV1 28" Long Rod 
28" Weight 173 grams (6.1oz)
Photo shows different weights on stabilizer
Designed for High Performance without the weight.
The 21.8mm Outside Diameter creates a stiff rod while maintaining a thin carbon wall to keep the overall weight to a minimum.
The RV1 is ideally suited to Compound bows with more parallel limb geometry. The Vibex is a better choice for the more vertical limb geometry bows which typically have a lot more vibration.
Built with an Integral Foam Suppression System, to help reduce high frequency vibrations.
 21.8mm diameter for Ultra Stiffness.
The Rods are made with a High Gloss Carbon Twill finish and Hi Mod Carbon core structure.
Available with either anodised Silver or Black ends. Both ends are threaded for 5/16.

Long Rods Come with a cap weight,
1.75" Fully Threaded 5/16" CSK Bolt
two Nylon washers.
 The short Stabilizers in the photo are not included with the 28" Stabilizer.