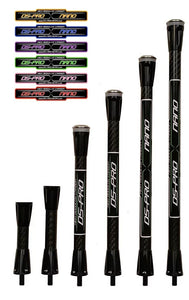 Set of 2
The Nano is the first Skinny stabilizer to come from DS-Archery.
It features a 17.8mm Outside Diameter and is constructed from an even higher Modulus carbon than both the RV1 and Vibex Rods.

The stiffness of the Nano is the same as the hugely popular RV1.
The Nano is also thinner AND lighter Than the RV1 due to the Higher Modulus of carbon used.

The Nano also features both silicone rubber and Silicone Foam at both ends of each stabilizer to help dissipate both high and low frequency vibrations.
Technical Specifications: Short Rods