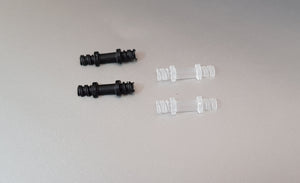 Sold as a pair
The Beiter Nocking-Point was the first product that Werner Beiter developed for archery.
This Nocking-Point is the ideal partner for the Beiter Nock: both are matching in form and material. 
The use of both components avoids the nocking-out of the shaft at full draw and offers a smooth release of the Nock from the string.
The Nocking-Point is made out of two identical halves, which must be served into the serving. Pay attention to fit pins and holes (as shown in the instructions)!

A detailed instruction shows how to serve a Beiter Nocking Point and can be downloaded under the directing link.