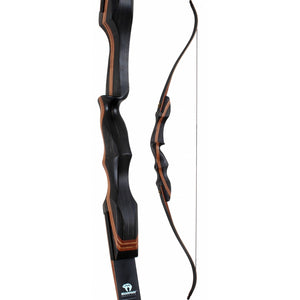 The Bearpaw Mohican take down recurve field bow sits firmly in the hand and is a fantastic bow for anyone starting up in traditional archery. Right handed (left as a custom).
The riser is produced from stable Actionwood and compliments the looks of the black limbs perfectly. When it comes to take-down recurves in the beginners class the Mohican is a bow that cannot be overlooked. The recurve limbs are beautifully smooth all the way to their maximum of 32" draw length and offer amazing levels of stable shooting and outstanding speed.
A bow that will have you hooked from the first shot!.
Bow Length: 60 inches
Draw Weight: 30 -50 lbs in 5 lbs increments
Handle: Actionwood, Bubinga, Maple
Limbs: Maple and Bearpaw black glass
Tips: Mycarta
Grip: Pistol grip
String: Comes with string
Brace Height: 8 inches
Quality: Bodnik Bows Design
Warranty: 2 years warranty