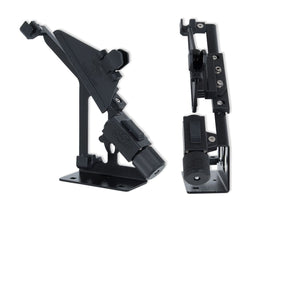 Bearpaw Deluxe Fletching Jig with straight clamp.
(RW and LW Helical clamps are available)
German design, German functionality, German quality
Our Deluxe fletching jig shows essential improvements and new functions. Due to its accessories the jig can be extended to a multi-fletching line at any time and grows with its challenges.

Features:
* The adjustment of the arrow's position will be very comfortable and smooth-running.
* The tolerances are minimal and they correspond to our German standards.
* By means of a simple switch at the upper side of the jig a change from threefold to fourfold or sixfold fletching is possible.
* The jig is made of a high-quality combination of metal and plastic.
* By means of our additionally available basic plate the fletching jig can be extended to a threefold fletching jig (multi fletcher).
* The basic plates can be used in any combination in order to extend the Bearpaw Fletching System in steps of three to have unlimited possibilities (multi fletcher with 3, 6, 9, 12 etc.)
* Spare clamps are also available.
* The arrow centers automatically, not depending on the diameter. From the tiny X10 shaft to the 27 er aluminium arrow the arrow is always centrical.
* The nock receiver is suited for all conventional nocks.
* The helical clamps are wrapping around the arrow
* Most accurate fletching for arrow diameters of Nano and ACE to 23/64 and shafts of measurement 27.