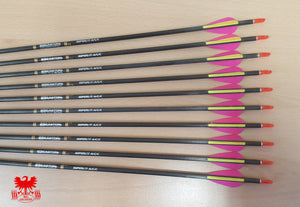 These are the remainder of the ACC shafts we have left. Please add your specifications to the order in the following format.
Vane Type - Choices of EP16, EP23, Bohning Air, Bohning Ice, or Bohning X-Vane 1.5".
Nock Colour (Small groove will be fitted unless otherwise requested) - Black, White, Green, Orange, Pink.
Cock Vane Colour - Red, Blue, Green, Pink, Orange, Black, White, Purple, Yellow. 
Hen Vane Colour - Red, Blue, Green, Pink, Orange, Black, White, Purple, Yellow.
Length - Measure from nock slot to end of shaft
Weight of point - These vary in different spines, if incorrect one is selected we will change to weight closest to selected.
00 Spine - 60gr, 70gr, 80gr, 90gr, 100gr.
04 Spine - 60gr, 70gr, 80gr, 100gr.
18 Spine - 60gr, 70gr, 82gr, 100gr.
49 Spine - 80gr, 100gr.
Small groove nock will be fitted as standard, if you require a large groove please let us know!
Please note -00 shafts require an ACE breakoff point, therefore there is an extra charge.
Easton's A/C/C (Aluminum Carbon Competition) has become legendary as the do-it-all arrow for any type of archery.  
With sophisticated aluminum-carbon construction, made in sizes to fit every shooter, and with component choices to fulfill any archery mission, A/C/C is truly the "Swiss Army knife of arrows".  
Want to win a FITA round with a compound, a 3D event with a barebow, and shoot precision indoor rounds with an Olympic recurve shooting the same arrow?  A/C/C has you covered.  
Featuring unprecedented precision, extreme spine consistency and unmatched versatility, A/C/C is the arrow for everything.  Every A/C/C is proudly Made by Easton in the USA.
Please see diagram to determine arrow length, if you are unsure please contact us.
To work out the spine of arrow you require, please refer to the Easton arrow chart HERE (opens in new window)