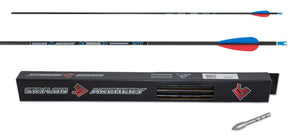 Set of 12 Carbon Arrows from Skylon.
These come fletched with Pin Nocks, EP vanes and Break Off Points. As these arrive fletched, unfortunately there is no colour choice. 
Suitable for both recurve and compound bows.
Note- If your spine is not listed please get in touch as we can get the other spines.
Skylon Radius: 
Material: 24-ton Carbon
Inner diameter: 4.2mm / 0.166"
Grains per inch: (spine dependent)
Straightness tolerance: ±0.005
Full length: 32"
Please see diagram for arrow length, if you are unsure please get in touch.
To determine your arrow spine please see the Skylon Arrow Chart HERE (opens in new window)