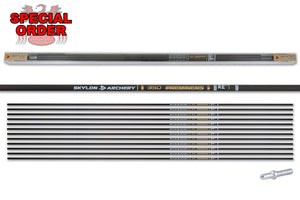 Set of 12 Carbon Arrows from Skylon.
These come fletched with Pin Nocks, EP vanes.
Suitable for both recurve and compound bows. However if using with compound let us know so we can add a large groove nock.
Note- Special Order Item, please allow 2-3 weeks for delivery, however during busy periods this may take longer. To avoid disappointment please check stock levels with our suppliers HERE, if the item is out of stock we will refund or discuss alternatives
Skylon Preminens: 
Material: 40-ton Carbon
Inner diameter: 3.2mm / 0.125"
Grains per inch: (spine dependent)
Straightness tolerance: ±0.01"
Full length: 32"
Please see diagram for arrow length, if you are unsure please get in touch.
To determine your arrow spine please see the Skylon Arrow Chart HERE (opens in new window)