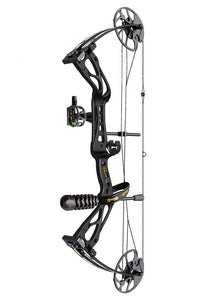 Extreme versatile compound bow from Sanlida at an very interesting price point.

Axle to Axle: 30"
IBO speed: 310fps
Brace height: 6.5"
Net weight: 3.8lbs
Draw length: 18-31"
Draw weight: adjustable from 10 to 60lbs
Let off: 70-80%
CNC aluminum cams & modules
Easy to adjust, no bow press needed.
Available in black or camo.
String and cables made out of BCY-X.
Package incl: 5-pin hunting sight, arrow rest, stabilizer, peep sight and wrist sling
String and cable specs:
 String:  58.13" Cable: 32.23"