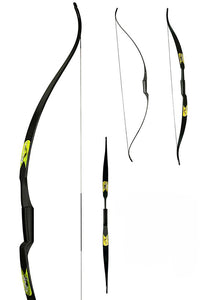 The Snake is an ambidextrous bow with an oriental design, it gives him smoothness and an incredible speed!
Produced with a combination of high quality polymer materials, the Snake is almost indestructible and has the best possible value for money.
This bow is perfect for beginners, camps, schools, clubs, ArcTRAP® and Battle Archery!
Available in black 60'', 18, 22 et 26# @28''. 31'' maximum recommended draw length.
Comes with 1 string, 4 arrow rest, 2 nock sets and 2 stickers.