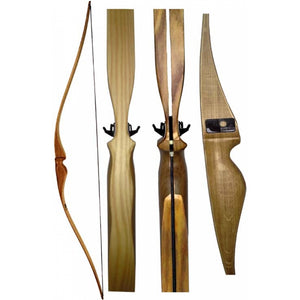 Team KG have created a traditional looking bow using Oak in the handle section and Ash wood with clear glass fibre laminations to make a stunning good looking and practical bow which can be used by both left and right handed people.
This is a beautiful bow to be used for corporate entertainment, re-enactment, club training, have a go's, garden party's and any occasion that you need a bow that makes potential new archers feel good that they have a proper traditional bow.
This bow comes with a Fast Flight bow string and arrow rests.

The draw length up To 32"
Bracing Height from back of bow 8 3/4"to 9 1/4"
Satin Finish.

We try to keep a selection of bow weights in stock but some times we have sold out and we will make your bow to order, please allow 28 days for delivery.