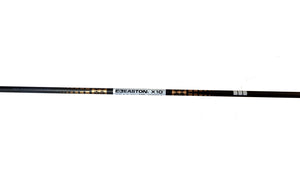 (Pre-Order item only, please allow 3 weeks for delivery)
The ultimate recurve competition shaft.  The Easton X10 has won more World and Olympic titles than any other arrow- or any other archery product of any kind- since its competition debut at the 1996 Olympic Games in Atlanta, USA.  Since making that gold-medal-winning debut, it has gone on to be used to win every single Olympic Medal since the Atlanta Games.  High-modulus carbon fiber on a precision, thin-wall aluminum core creates an unmatched synergy of precision and durability.  With components engineered to match the performance of this ultimate target shaft, every size X10 features a custom barreled design, providing the ultimate in clearance, finger release forgiveness, and the correct frequency match for modern recurve bows.  X10.  Nothing else comes close.
Made with pride by Easton in the USA.
High-strength carbon fiber bonded to a 7075 precision alloy core
Polished 9-micron carbon finish
Straightness: ± .0015"
Weight tolerance: ± 0.5 grains per packaged dozen
Weight coded for precision matching between dozens
Components—sold separately
Barreled design
Used to win every Olympic title since 1996