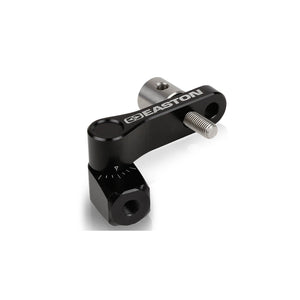 Easton Adjustable Side Rod Adapter
The Easton Adjustable Side Rod Adapter is precisely machined from high strength alloy and has precise markings for easy reference. The bolt is designed to hold a single rod.

The side rod adaptor has two different mounting positions allowing you to customise how far out the rod is from the riser. The angle adjustment is securely locked in place with a screw so once you have chosen the angle of the rod you can lock in in place and be sure that it won't move.

This adapter allows you to add weight to one side of your bow to offset the weight on the other side such as your sight. The adaptor connects to your bow using the included 5/16 stainless steel eye bolt.