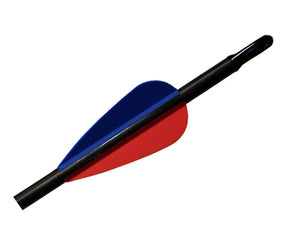 Set of 12 spine matched ACE arrows.
Arrow Specifications
Pin Nocks
EP Vanes
Break Off Points
Other Combinations such as Pin Nocks and point/inserts available, see other products.
A/C/E is the arrow which started a revolution that continues to this day. Light, strong and proven across the globe.
High-strength carbon fiber bonded to a 7075 alloy core
Polished black carbon finish
Straightness: ± .0015"
Weight tolerance: ± 0.5 grains
Components—sold separately
Barrelled design
Please see diagram to determine arrow length, if you are unsure please contact us.
To work out the spine of arrow you require, please refer to the Easton arrow chart HERE (opens in new window)
(Please allow up to 7 working days for delivery)