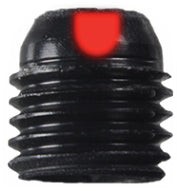 Aperture with #3 Lens 
The #3 clarifier is recommended for use with a 7X or 8X scope lens. For the target shooter there are 3 different clarifier magnifications available with 1/32", 3/64", 1/16", 3/32", and 1/8" hole sizes. The clarifier will make the target crystal clear allowing you to pick out the details at a distance. The clarifier will work in all the Super Peep Housings. You will need a reducer (753-3) for the 1/4" Super Peep Housings. See FAQs for suggestions in selecting the clarifier best suited to your needs. We recommend use of the 210078 dual hex wrench for inserting clarifiers into your peep. We also recommend Lens Brite Anti Fog Lens Cleaner (Part 641) and Foam Applicator Lens Cleaners (Part 501) for cleaning the lenses.


CAUTION: High powered bows create a great amount of vibration. This may loosen verifiers, clarifiers and apertures over time. Tighten your apertures before each use. If you hear a buzzing sound, this indicates a loose aperture. You may use a drop of Vibra-Tite VC 3 (Part #VC3), Teflon tape, bow wax, or any other non-permanent binding agent on the threads.