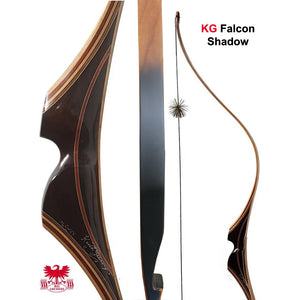 This is a unique and tastefully designed bow which unwinds so smoothly to full draw and yet produces an incredible amount of energy which when transferred into the arrow generates incredible arrow speed and flat trajectory giving tremendous pleasure with every shot.
The bow grip this is a true pistol type grip putting the bow hand in the correct position for maximum comfort and control of the shot.
The bow handle is a composite constructed bow handles with Rosewood and exotic hardwood laminations.
The limb construction is with Cherry wood and Carbon laminations with clear glass to enhance the colours and texture of the Cherry wood with a satin lacquer finish as standard. Come and try this bow you will not be disappointed.
The Falcon bow length Strung is 59 1/2" from nock slot to nock slot and measured in a straight line.
Bracing Height 8 1/4" to 9 1/4" to the back of the bow with a maximum draw length of 34"
The bow comes with a traditional arrow rest, FF+ bow string fitted with silencers and a cotton bow sleeve