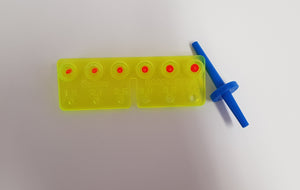 Beiter Scope Pins have been developed for the use with the K-Lens (center hole Ø1,5mm) and offer the most advanced aiming system on the market, all together with a unique feature: the fastest exchange of size and/or colour of your aiming you have ever seen!
Not only: you can combine them with Scope-Pin Rings to have the Circle-Dot aiming option, widely used in Field Archery!
Beiter Scope Pins are available in following diameters: 1,8mm - 2,1mm - 2,5mm - 3,0mm - 3,5mm - 4,0mm - 5,0mm - 6,0mm

Available colours: Black, Red and White

Beiter Scope Pins may be ordered as single pieces or as a kit.
Following two Kits are available at this moment:

Scope Pins Colour-Kit (6 Pins, 1 per size 1,8-4,0mm in the ordered colour, Scope Pin Holder and Scope Pin Tool)
Scope Pins Size-Kit (6 Pins, 2 per colour in the ordered size 1,8-4,0mm, Scope Pin Holder and Scope Pin Tool)
The Scope Pin Holder helps to store not used Scope Pins, but also to determine the size of the Scope Pins.