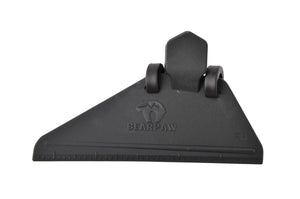 The replacement clamps for the fletching device Deluxe are made of a robust and resistant material. In this way we can guarantee a high level of functionality and durability. The brackets are precisely built to ensure a high degree of accuracy when fletching the arrows. The shape of the twisted clips was optimally designed so that the quill can be pressed against the shaft with its entire keel surface.
Versions: brackets right-hand, left-hand and straight

German quality

German design

German functionality
If you'd like an option that is currently out of stock, then please let us know as we can order them in with a 7-10 day delivery time.