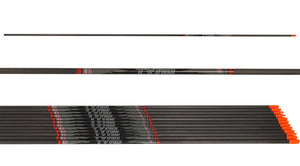 Set of 12 Carbon Arrows from Avalon.
We have lots of stock of 900 spine, these are great for have-a-go's. And are the equivalent spine to the old Neos 1618's. However please note they are full carbon so check with your club/location that they can be used before purchasing.
Other spines available on request.
These come fletched with G Nock, EP 23 vanes and Points. 
These will come prefletched so no colour choice available.
Note- If your spine is not listed please get in touch as we can get the other spines.
Avalon Tyro: 
ID: 4.2mm
- Straightness tolerance: .007"
Please see diagram for arrow length, if you are unsure please get in touch.