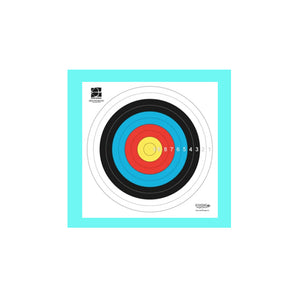 Paper archery target face 122cm FITA
Official World Archery Target Face made by Arrowhead. Toughened paper FITA 122cm target face with the FITA requested inner ten scoring lines in very light grey together with the zone score values printed within each colour band.

Manufactured in three ply toughenised paper. Sold in single sheets and rolled for easy shipping.
Note- Due to the length of the face, shipping may seem high. We can offer cheaper shipping but this would require the face to be folded not rolled. Please get in touch if you would like this cheaper option.
Note - Roll of 50 faces is not eligible for free delivery. Item can be shipped, please ask for quote before ordering.