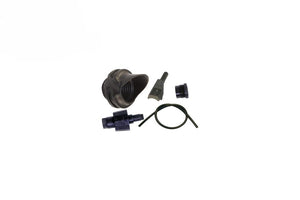 Specialty Archery has redesigned the Super Hunter Peep Kits!  We have substituted our machined aluminum hooded peeps

 

and Peep Aligners for the molded polycarbonate peeps formerly offered in these kits.  Specialty Archery's Aluminum Super Hunter Peep Kits now offer the quality and precision of our machined aluminum hooded peeps, with the reliability of silicone alignment tubing!
Kit includes: 1/4" 37-degree Large Hooded aluminum peep, Peep Reducer, 16" of Silicone Alignment Tubing, Peep Aligner Large, and Dual Aperture wrench.
The 1/4" Large Hooded peep accepts all 1/4" Verifiers and Clarifiers, as well as all 1/8″ and smaller Apertures, Clarifiers and Verifiers when used with the Peep Reducer.  
Use of Dual Aperture Wrench  is recommended for insertion of Verifiers, Clarifiers, and Apertures.
The optional screw-in Verifier lenses sharpen the pins. The optional screw-in Clarifiers when used with a scope and lens sharpen the target face.